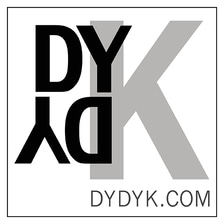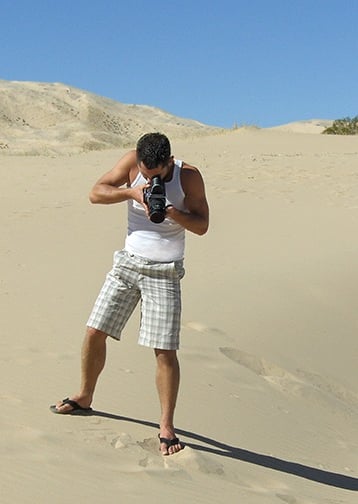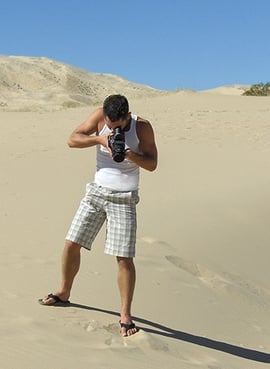 Photography, as most people understand it, is a record of what was happening the instant the shutter was released
.
I was born in Ontario, Canada, and moved with my family to Southern California when I was 8 years old. While still in Canada I discovered my love for the outdoors. Each summer we would rent a cabin on Manitoulin Island (on the north side of lake Huron in Ontario). I would spend hours roaming the beaches looking for shells, or wandering the forests in search of frogs or the perfect birch tree to make paper.
I brought that love of the outdoors with me to California. It was at the age of 13 that I first seriously picked up a camera, and I was immediately hooked. I started by simply documenting the beauty that I saw. I would often return from these hiking trips and give slide show presentations. I remember my hiking mates seeing my pictures and saying: "Wow, that's beautiful; where is that?" Reactions like that always made me laugh because, more often than not, the images were taken next to the campsite where we all stayed, or along the trail we walked. I just assumed that everyone saw the same things that I did.
My grandmother gifted me with all of my grandfather's negatives and camera equipment (he was a passionate photographic hobbyist). I soon built a darkroom in my bedroom closet, was developing prints and fixing them in my bathroom sink. The square format (from my grandfather's camera) was so freeing compared to the rectangle of a 35mm negative. The square allowed me to discover movement in the frame. It seems ironic to say that I discovered movement in a still photograph, in a split second of time, but to me the square format had no corners - it was a freeing shape. Composition played an important role (even though, at the time, I wasn't aware of the "rules" of photography).
I continued with my passion of photography as I headed to U.C. Santa Barbara to earn my B.A. in biopsychology. During my last quarter in college I realized that becoming a doctor was not what I wanted. I wanted to do what I loved to do when I wasn't studying, photography! So after graduating from UCSB, I enrolled at Brooks Institute of Photography and when I arrived, I knew that I was home. Classes were thrown at us at a grueling pace, but I loved every second. I stayed there for only 18 months because I soon found myself working full time as a photographer for a local Horse Whisperer. We ended up publishing a photo book together – Shy Boy, The Horse That Came In From The Wild.
After several years, I decided to pack things up and move to Palm Springs, the desert, for a new experience. Being free of the rigors of commercial photography, I was more able to concentrate on the Fine Art side of photography that I loved so much. Palm Springs is also where I met my partner Morris. We soon found ourselves in Boston, Massachusetts. My obsession there was panoramic photography, which I used to capture a whole scene instead of just a part.
In 2012 we moved to San Francisco and I immediately fell in love with the energy and beauty of the City. It was during my first year here that I created my first Impression. It was of a tree in Golden Gate Park. Using this new method, I captured not only a whole scene in space, but, also a whole scene in time. My Impressions are grounded in a love of photography and transcend the still or snapshot. I hope they convey my love of my new home, San Francisco
Can I purchase an original print?
Yes of course! All of my works are limited edition prints. Here are some of the sizes and editions:
16 x 24 inches (Tree Impressions only) Acrylic Mounted – Edition of 25

36 x 24 inches Acrylic Mounted (all Impressions) – Edition of 25

60 x 40 inches Acrylic Mounted (all Impressions) – Edition of 7

72 x 48 inches Acrylic Mounted (all Impressions) – Edition of 5

Each image also has 3 artists proofs
How do you work?· What makes your particular process unique?
This is both an easy question to answer and a difficult one. It is difficult to say what makes my particular process unique, because it's all that I know - it is who I am. From my perspective, there are perfect moments happening all the time. When I am shooting all of my energy is directed at the subject, in an effort to capture as much of that moment – or series of moments – as possible, "listening" and reading what the subject, whether it's a person, tree, building, has to tell me about its connection to its surroundings.
When I first moved to San Francisco, I began capturing photos of the beauty within Golden Gate Park (which happens to be my "front yard"). I went into the park every day, and was amazed at the variety of scenes. Every time I went I saw something new, but soon came to realize that my old way of still photographing wasn't working like it used to. The park has a lot more movement than I was used to in nature. There were people, wild areas, buildings, cars, and dogs. It was during this time that the idea of combining images together came to me. I had done double exposures before with film, and enjoyed the look of them, but digital photography isn't limited to just double exposures. Traditional photography is beautiful and is at the foundation of my work. However, for me, today, it lacks the multidimensionality to fully express the sensations of energy and joy that I often feel when looking upon a scene. In every situation there is so much going on that can't be captured in just one click of the shutter. To overcome these limitations, I developed a technique that better expresses both space and time, as well as the feelings I have when experiencing them. So, I grabbed my camera and walked into the park. It was at the Conservatory of Flowers that I found my subject tree to experiment with. It was a palm. I centered the tree in my viewfinder and began taking images of it. I would take a photo, then move to my right, then another, and another. When I got home, I uploaded them and layered them all on top of each other. I soon discovered that this layering only created a mashing together of the surrounding scene, it was muddy looking. The tree looked great, but the surroundings were not readily identifiable. With trial and error I learned how to highlight the details – a person walking by, the conservatory spire, the flowers on the lawn. The finished piece brought forth the dynamics of time and movement in the park. It showed me, not just the beauty of the tree, but how it played its part in the activity of the city around it. I had been able to capture this essence in nature - the wind blown grass, a trees shadow, a bird perched for flight above a mountain lake - but never had I been able to incorporate so much into one image. I was euphoric! I felt as if I was painting with light. My Conservatory Palm brought together everything that I was feeling at the moment of capture. There was nothing left out.
I learned early on as a photographer that there is no one perfect moment to be captured. I never spent hours waiting for the prefect light while taking a nature shots. My eyes were (and still do) constantly survey the whole scene. I don't adhere to the rules of "golden hour" photography as the only time to shoot. Light is light. It plays, dances and has character no matter what hour.
How would you describe your subject matter or the content of your work?
My primary subject matter has shifted from nature photography to city life. Early on I took great care to eliminate anything that was man made from my images. Those were the days of film photography, so I had to eliminate man made objects by shifting my perspective at the moment I clicked the shutter, not by 'erasing them in Photoshop'. I sometimes still chuckle at the fact that my imagery today is so city focused. There was a time that I disliked every and all reference of human kind in my work. When I moved to a big city – first Boston, and now San Francisco – my perspective changed. I began to see the city as an organic, living thing. Its aliveness startled me.
My main subject matter today is the energy of city life. No moment in a city ever seems to be the same. Nothing seems to repeat itself. Motion is the essence.
How would you describe your aesthetic?
Photography, as most people understand it, is a record of what was happening the instant the shutter was released. It can only capture a split second. The viewer must then infer what was happening and what the photographer was seeing. My Impressions are more than one moment, more than one space, more than one perspective. They seek to capture the four dimensions (that are space and time) to more fully reflect the actual experience of "seeing." They also capture the energy that I am feeling, the subtle differences in direction, movement: people rushing by living their own lives, leaves blowing in the wind, shadows changing with the light. My impressions are created by merging the technology of today with the photography of yesterday. For the viewer there are endless discoveries encapsulated in the density of each scene. My aesthetics developed from love of nature, wanting to capture one moment in space and time, the realism of natural color and the abstraction of black and white. My Impressions are a natural progression from the 'freeze frame' of my early work, where I captured the subtle play of movement in many of my photographs, through my obsession with capturing the whole scene in a panoramic. Impressions are not an ending point, but just a stop along my journey.
There is an energy in cities that is very different from the wilderness, something that I had never fully been comfortable with, until recently. I began tramping the city for trees to photograph. Sometimes people would get in my way, or cars, or a construction barrier, but I would not be deterred. One of my excursions, down on Crissy Field, I asked myself, why am I trying to avoid capturing people in these Impressions? People were what make the city. People are the city. So, I took my first 'City Impression', the focus was the Golden Gate Bridge. I was intrigued by the result, but continued on my search for trees. It wasn't until June of 2013 that I let go of nature as the only anchor in my images, to put nature, buildings and people on equal footing. It happened to be again at the Conservatory of Flowers. Instead of focusing on the palm tree, I pointed my lens at the Conservatory itself. The image now became about the people that were using the space in the shadow of the Conservatory. From there, I began to incorporate the people of San Francisco, the movement of the city. I truly began seeing.
What memorable responses have you had to your work?
There are a few responses that come to mind when thinking of this question. The first, that brought a smile to my face, was someone trying to figure out how the image had so much depth. When he was looking at it, he said he felt as if he were immersed in the scene itself, as if he was on the street at that very moment. He looked at it from all angles, including from the side, trying to figure out how it was made. He asked me if it was one print or many layers of transparent medium layered on each other. The answer is it is just one print. Another that comes to mind is from a comment I read on an article published on my work and refers to my statement that each Impression takes days to complete more often than not, weeks. The comment was: "Has this guy never heard of Photoshop layers? I could do this in 10 minutes." This cracked me up. Yes, I do know about layers, and use them in my workflow, but there is much more to it than just stacking images on top of each other.
However, one of the most memorable responses to my work was from a creative/art director and was sent to me via email:
"I spend my mornings trolling the inter webs to keep up with creative life and to see what I can discover that is new. I came across your amazing images on Mashable this morning and was completely struck by them. I sat back in my chair and breathed in deeply. Almost as to inhale the craft and care. I was genuinely surprised at what I was looking at. Like many I am a huge fan of the french impressionist period of art. I've always felt it was the beginning of "design". Implied images that stir the conscious and allow the viewer to see it their way. While capturing the energy of the moment. Nothing has truly been able to take those principals and apply them to todays technology in a way that created the same emotion for me – until now.
Imagine my (like yours I am sure) dismay in the miss use of digital photography and "photoshop". So many have let the tools dictate their art rather than use the tool to help craft something amazing. What you have done with layering multiple photographic images to create an impression of a moment in a seemingly non photographic form is nothing short of creative brilliance. I love it. I am fascinated by your craft and would love to know more.
But mainly this email is to say THANK YOU. Thank you for creating something new. For pushing the notion of craft to a new level."
What would people be surprised to learn about you?
I love to cook and experiment in the kitchen as well as spend evenings cuddled on the couch with my partner, Morris, and our two dogs watching really terrible science fiction shows.